Millard Machine offers a variety of CNC and Swiss Screw Machine products with Quality Service, Quick Turn-around, and Years of Experience.
Please fill out our contact form and we would be happy to give you a quote!
Millard Machine was founded in 1947 as a family run business manufacturing precision machined parts for the brasswind musical industry and mechanical automobile clocks. The company has expanded to include hydraulics, medical, musical instruments, shaft (electric motors), and water treatment. Our Primary Machining centers are Brown & Sharpe and Tornos Bechler CNC's as well as Brown & Sharp Screw Machines.
The mission of Millard Machine, Inc. is to create value for our customers, employees, suppliers, and community while earning a fair profit for CNC and Swiss Screw Machine products. To this end, we must form relationships with customer and supplier organizations that best benefit from our skills, technology and people. While we are located in Elkhorn, WI we ship to international customers from our location on a regular basis.
We offer a variety of Services including: Turning, Drilling, Milling, Broaching, Threading, and Tapping.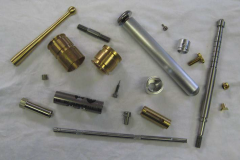 We have the ability to utilize many materials including: Alloy Steel, Aluminum, Brass, Bronze, Monel, and Nickel Alloy.
Please see our Equipment & Services page for more details!